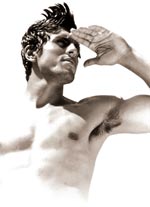 'Arihant', as connoted in the Jainism philosophy of India, are 'Noble Persons who have gained Victory over Greed, Anger, Fear, Lust & Emotions'. Our Mission at Arihant is to Conquer your Hearts, by making your buying from India, a cherishable experience, setting aside purely commercial considerations. The proliferation of Arihant's reach to over 40 countries worldwide is testimony to its commitments.

In 1984, Mukesh Modi, a young geologist and first generation entrepreneur, laid the foundation of Arihant Group, in the picturesque City of Udaipur, in India, known for its Rich mineral wealth, Lakes and the Royal Heritage.
The Arihant group is powered by Mukesh Modi, the Geologist-turned-Corporate Shaper, Pradeep Modi, Quarry Developer & an Adventurer, Praveen Modi, an Immaculate Executor . Mukesh's Vision is ably complemented by his calm and controlled self-confidence. Pradeep is a very innovative Resource Investigator and a tough Problem-cracker. The group is nurtured and guided by H. S. Modi.

We have our own rich and wide marble & Granite quarries spread many acres of land in the world's largest reservoir of green marble and granites along with this we have our own Ultra Modern & Hi Tech Processing Unit having state of the art manufacturing facilities comprises 11 Diamond Gang saws, Pedrini Italy make Automatic Slab Polishing Line, Pedrini Italy make fully Automatic Tile Line, Bridge Cutting Machines and Multy Disc Cutters, Automated Resin Line ( From S.E.I) etc to cater to the domestic & international markets. This forms an integral part of its technology heart to fulfill its global vision.

What we want to say is we have established a state of the art Processing Plant with over 350 professionals working in disciplines ranging from quarrying & processing to order fulfillment Arihant Group, a prestigious multicrore, established in 1984 is India's premier and fastest growing company located in the Indian state of Rajasthan known as hub of Indian Dimensional Stone Industry. Over the years company has been constantly rejuvenating itself towards a customer focused company through a lean, young & quick-footed team.

We take pride in the fact that over 60% of our customers are long-standing customers, who have patronized us in India. Our intent is to provide you the intrinsic toughness of stones for people ... to step upon... live in...enjoy... endowed with the unique warmth and aesthetic beauty that their rich hues and textures spread ...melting their hearts and throwing them into instant ecstasy ....