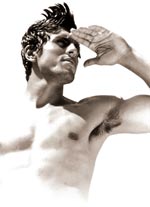 Arihant's plants are strategically located on the National Highway Grid & well connected to their quarries and the ports providing an uninterrupted supply of raw materials. Arihant is equipped with the best processing machineries from internationally reputed Italian manufacturers such as BM, Pedrini etc.
Ten Diamond Gang-Saws, yield over 1,000,000 square meters of marble slabs. The raw blocks are dressed on wire-saws and mono-blade dressers before transporting from stockyard to the Gang- Saws for processing. This maximizes advantage to the customers by way of increased stuffing per container and reduced freight charges. Internationally trained professionals aided by qualified technicians run the plants round the clock. Automated Resining Lines from Societa' Elettrotecnica, Italy provide surface treatment to the sawn slabs before the final polishing.

Jain Grani, the flagship company of Arihant Group has been established as a 100% EOU to deliver better value to the ultimate customers through better processes and products. In the Indian Market the Concept of EOU (Export Oriented Unit) means the unit has unique features that produces the cutting edge products only for the quality conscious International market. The quality & finishing of the material is on par with global standards as the flagship company has the most technologically advanced Processing Plant.
Arihant's captive quarrying areas spread over 110,000 square meters, in the foothills of the Aravali ranges, churn out marble & granite having unique textures and colours. Highly mechanized quarrying with State of the Art array of machineries including Volvo Excavators, Diamond Wire Saws, Diamond Chain Saws, Hydraulic Multi-drilling Rod Compressors, Derrick Cranes, Dumpers, Loaders and Tippers yield over some of the Best Indian Marble & Granite Blocks.
Scientifically organized, well-developed quarrying technologies ensure a continuous and consistent supply to serve large project demands with complete customer satisfaction under the backdrop of environment friendly techniques. A team of highly trained professionals & technical personnel manage the quarries, round the clock to ensure timely delivery of every customer's requirements.
Experienced eyes of our Quality Assurance Managers ensure careful dressing, sorting and classification of the Blocks at the pitheads before they are dispatched to the processing plants.
Our team of geologists continuously scouts the Indian landscape to identify ever new varieties of marbles, granites and natural stones to complement our offer to the world.